What is Psoriasis?
Psoriasis is an autoimmune disease that causes raised, red, scaly patches to appear on the skin at an abnormally fast rate, often causing lesions that may burn, sting, and itch. This disorder causes skin cells to multiply up to 10 times faster than normal and create a build-up on the skin.
Plaque psoriasis, also known as psoriasis vulgaris, accounts for about 90% of reported cases. It typically presents red patches of skin with white scales on top. The patches may vary in severity from small and localized to nearly complete body coverage. Some people report symptoms of itching, burning, and stinging. Psoriasis is also associated with other serious health conditions, such as diabetes, heart disease, and depression.
August is Psoriasis Awareness Month and NeoGenesis wants to bring awareness and support to those suffering from this chronic skin condition. NeoGenesis believes that great skin care products can provide the relief needed to restore and bring comfort to the skin.
Treatments for Psoriasis
Treating your psoriasis is critical to good disease management and overall health. Work with your doctor or health care professional to find a treatment that reduces or eliminates your symptoms. What works for one person might not work for another.
It's important to know the different treatment options and keep trying until you find the right regimen for you.
With groundbreaking technology in skin care, NeoGenesis products have improved the quality of life for those with chronic psoriasis. Our case studies have shown that with regular use of Recovery serum and Barrier Renewal Cream, the skin dramatically improved and reduced irritation.
Additionally, skin exposure to natural or artificial ultraviolet light can also help as a treatment plan. The light causes the activated T cells in the skin to die, which slows down the cell turnover, which is a problem in psoriasis. However, limit sun exposure to avoid sunburn.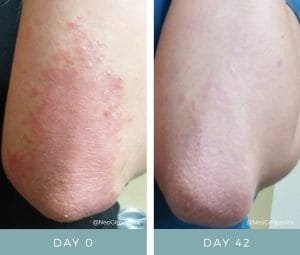 "As you can tell in the pictures there is significant improvement in the aspect of the lesions. She has no pain, some itchiness but subsides quickly. The scaling is significantly less and the size of the affected area decreased considerably." – Valentin Isacescu, MD
Treating Psoriasis at Home
We want you to know that you're not alone! 8 million Americans have psoriasis – making it the most common autoimmune disease. While there is currently no cure for this condition, you can easily manage the side effects at home with a proper at-home protocol from NeoGenesis. Using these products listed below 2 times a day, can dramatically improve the overall appearance of your skin. We want you to feel confident in your skin!
NeoGenesis Recovery, our most advanced product, is abundant in S²RM® molecules which will help to reset the normal balance of the skin's growth factors, thereby returning the growth rates to more normal levels.

Along with Recovery serum, protect the skin with a nutrient-dense moisturizer. NeoGenesis

Barrier Renewal Cream

,

Intensive Moisturizer

, or

Body Cream

will keep the skin hydrated and improve barrier function. Apply Recovery at least twice daily to the affected area and follow with the moisturizer.

NeoGenesis

Moisturizing Mist

may be used throughout the day for immediate soothing of the skin.
"Recovery Serum was amazing for my psoriasis! I have been in the aesthetics industry over my 30 years and have worked with many lines. I must tell you that your products are quite extraordinary…." – GF
We also encourage you to visit your local esthetician. With the help of a skin professional, you will be able to better manage your psoriasis with great skin care products and treatments. Don't let psoriasis get in the way of you living your life to the fullest! How has NeoGenesis helped your skin condition? We would love to hear from you!
Do you want to learn more about what NeoGenesis products can do for you? Follow NeoGenesis on Facebook, Instagram, TikTok, Twitter and YouTube.